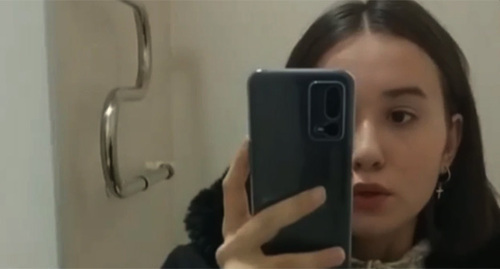 30 November 2022, 23:53
"Daptar" project tells escape story of Leyla Gireeva
After facing domestic violence, Leyla Gireeva, asked for advice in social networks and decided to run away from home. The girl's mother said that her daughter was lying about the customs in the family, suggesting that the girl "was seduced by an organization sponsored by America." Gireeva remains in danger because relatives can still abduct her.
The "Caucasian Knot" has reported that on November 23, law enforcers detained the 18-year-old Leyla Gireeva, who had fled Nazran from domestic violence, but was found by her relatives in Saint Petersburg. In the evening of the same day, law enforcers released the girl.
Leyla Gireeva was subjected to domestic violence and "expulsion of jinn", which prompted her to run away from home, said Svetlana Anokhina, a human rights defender from the "Marem" organization. The girl wrote an application about a threat of murder by relatives.
Two weeks before running away from home, Leyla Gireeva turned to subscribers of the "Feminism. Caucasus" Telegram channel for advice. She said that her parents beat her up for any reason: she drinks tea in a wrong way, or put on a scarf in a wrong way. Besides, they had justified the guy who killed his sister for reasons of "honour", and said that she would face the same fate if she dishonoured the family. According to the girl, her parents are also outraged that she is an atheist, and not "a Muslim, as they wanted."
Social network users gave Leyla contacts of human rights defenders from the SK SOS Crisis Group. A few days later, she found in social networks Vladislav Khorev, a developer of an international IT company and the author of the visual novel "Escape to Moscow", which, according to his story, was inspired by the story of the escape of a Chechen, Aminat Lorsanova.
Now, Leyla is relatively safe, but it's too early to relax, rights defenders from the Group say. They have recalled that the so-called "honour killings" continue in Ingushetia and cite an example of Liza Mogushkova, who was killed by her brother. He was sentenced to only two of freedom deprivation.
"The situation with Leyla is quite difficult, because she not only ran away from home, but also 'defamed' her family by posting a video message online. Besides, she called herself an atheist, which increases her risks. In their comments to her video posted in our Instagram* page, users write that she needs to be 'found and punished', that 'such persons should be killed'," says an activist of the "Marem" crisis group.
This article was originally published on the Russian page of 24/7 Internet agency 'Caucasian Knot' on November 29, 2022 at 10:10 pm MSK. To access the full text of the article, click here.
Source: Caucasian Knot