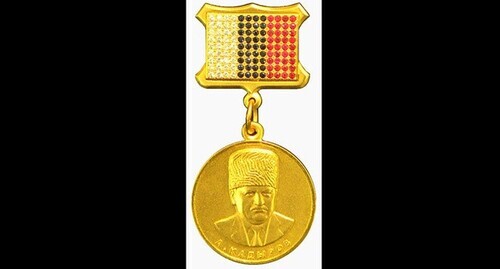 27 December 2022, 23:46
Chechen authorities decide to spend 13.5 million roubles on Kadyrov orders
The authorities of Chechnya, which is subsidized from the Russian state budget, have allocated 13.5 million roubles for the manufacture of 43 orders named after Akhmat Kadyrov. The awards must be made of gold and adorned with diamonds, sapphires and rubies, the "Kavkaz Realii"* project has reported.
The "Caucasian Knot" has reported that natives from Chechnya living abroad noted that many Chechen residents live on the verge of poverty and treat the money spent on promoting of accounts of Ramzan Kadyrov's family in social networks and on making awards as wasted. In their opinion, it would be wiser to direct these funds to the social sphere.
Let us remind you that the order named after Akhmat Kadyrov is the highest award of Chechnya, established in August 2004. The awardees include the aunt of the head of Chechnya, Agazert Daaeva, who received this order on the International Women's Day. In Chechnya, awards have a special meaning and support Kadyrov's cult, Mikhail Roschin, an Orientalist, has explained.
In Chechnya, any official dreams of receiving this order, because it is a promotion in the hierarchy built by Kadyrov, an important element of climbing the official career ladder, said Oleg Orlov, a human rights defender.
The "Caucasian Knot" has also reported that immediately after the death of Akhmat Kadyrov in 2004, his cult began to be erected in Chechnya. In particular, an avenue in Grozny, the main sports complex in Grozny, and a mosque in the capital of Chechnya were named after Kadyrov Senior. The cult of Akhmat Kadyrov sparks criticism in the republic.
This article was originally published on the Russian page of 24/7 Internet agency 'Caucasian Knot' on December 26, 2022 at 08:55 am MSK. To access the full text of the article, click here.
Source: Caucasian Knot