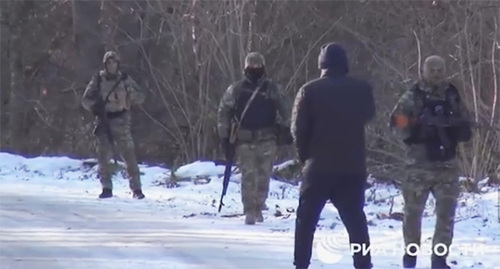 29 December 2022, 13:46
Shootout with law enforcers in KBR was the second in three months
The shootout in the suburbs of Nalchik, in which law enforcers killed two people, was preceded by a similar incident in the Prokhladnensky District in October 2022. Prior to this, there had been no armed incidents in the Kabardino-Balkarian Republic (KBR) for more than a year.
On December 26, in the forest near Nalchik, FSB agents found two armed men and demanded from them to surrender, but they opened fire on the agents and were killed by return fire. The FSB stated that the casualties were Russian citizens with previous convictions, who "on the instructions of Ukrainian special services" were preparing a terror act in the city of Chegem, and then planned to leave for Ukraine to take part in hostilities against Russian troops.
According to the "Caucasian Knot", the above shootout was the second in the KBR since October 1, 2022. On that day, according to law enforcers, in the Prokhladnensky District, two suspects of involvement in especially grave crimes opened fire on employees of the Ministry of Internal Affairs (MIA) and the "Rosgvardiya" (Russian National Guard) near the railway and were killed. The FSB announced the prevention of a "sabotage-terrorist act."
The shootout in the Prokhladnensky District was the first such incident in the KBR since July 3, 2021, when the counterterrorist operation (CTO) regime was introduced in Nalchik and Baksan. Then five persons were killed, whom law enforcers declared to be militants.
According to Nadezhda Kevorkova, a journalist, the five persons shot dead during the CTO, had been kidnapped earlier, and the entire CTO was staged.
This article was originally published on the Russian page of 24/7 Internet agency 'Caucasian Knot' on December 28, 2022 at 02:47 pm MSK. To access the full text of the article, click here.
Source: Caucasian Knot