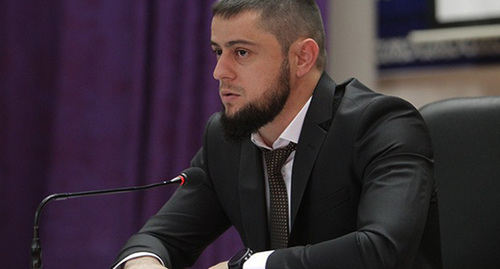 06 January 2023, 20:49
Chechen minister reacts to reports about death of ROVD head Aguev in Ukraine
The head of Rustam Aguev, the head of the Kurchaloi ROVD (District Interior Division), who is in Ukraine, is alive. The reports about his death and that Ramzan Kadyrov was involved therein were treated as fake by Akhmed Dudaev, the Chechen Minister for National Policy, Foreign Relations, Press and Information.
Earlier, Aguev called on his subordinates to send those who use firearms during wedding ceremonies to Ukraine; it follows from a video posted on the YouTube.
On November 25, President Vladimir Putin discussed with Kadyrov the situation in Chechnya and the work of Chechen units in the special military operation (SMO) in Ukraine. At the meeting with mothers of SMO participants, which preceded the discussion, Chechnya was represented by Zharadat Agueva, whose two sons are in Ukraine: Ismail Aguev (commander of the "West-Akhmat" battalion) and Rustam Aguev (the head of the Kurchaloi ROVD).
The minister Akhmed Dudaev, who is also an assistant to the head of Chechnya, refuted the news that appeared in the network about the death in Ukraine of Rustam Aguev, the head of the Kurchaloi ROVD.
The "Caucasian Knot" commentator named madie has drawn attention to the reports about Aguev's death and the refutation. "Many believed in this news, and not to say that they were upset thereby. There is too much lawlessness on the conscience of this 'comrade'; however, like on the conscience of almost all other ROVD heads and other officials of Kadyrov's law enforcement bodies," the commentator has written.
Rustam Aguev is known, among other things, for the fact that on February 5, 2022, he called on the Chechens living in Europe to "cut off the heads" of Yangulbaevs and bring them to Chechnya. He accused all those who would not do this of cowardice.
This article was originally published on the Russian page of 24/7 Internet agency 'Caucasian Knot' on January 5, 2022 at 05:19 pm MSK. To access the full text of the article, click here.
Source: Caucasian Knot