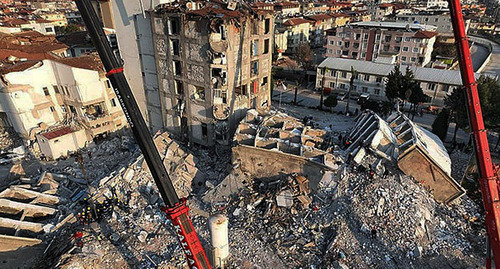 14 February 2023, 03:26
"Circassian Congress" reports about 150 Circassians perished in earthquake in Turkey
At least 150 Circassians were killed as a result of the earthquake in Turkey, reported the head of the "Circassian Congress".
The Caucasian diasporas in Turkey provide the victims with money and things collected including among others by residents of the republics of Northern Caucasus. Hundreds of volunteers responded to calls to help the victims of the earthquake, noted organizers of the fundraiser.
On February 6, a series of earthquakes occurred in Turkey. As of February 12, 29,605 people were killed and more than 80,000 were injured in the country as a result of the earthquakes. More than 3500 people have died in Syria and more than 5000 others have been injured. The death toll includes five citizens of Georgia and four citizens of Azerbaijan.
The effects of the earthquake are particularly severe in the cities of Göksun and Marash, where a large number of Circassians live, and in total, about 40 Circassian villages were affected during the earthquake, reports Mutlu Mamkheg, a member of the Crisis Committee, which helps the affected Circassians in Turkey.
According to Mutlu Mamkheg, the humanitarian aid collected by Circassians from different countries is being delivered to the affected villages and cities.
In June 2022, Kase Kik, the chair of the socio-political movement "Circassian Congress", left Russia because of fears for own safety. Earlier, law enforcers detained him in Cherkessk, and after his detention, Kase Kik complained of torture.
This article was originally published on the Russian page of 24/7 Internet agency 'Caucasian Knot' on February 13, 2023 at 05:49 pm MSK. To access the full text of the article, click here.
Source: Caucasian Knot