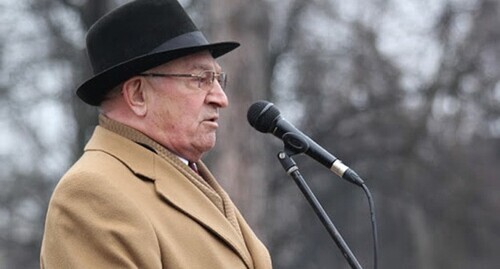 17 March 2023, 17:10
Court abolishes Balkar nation's Council of Elders
The public organization "Council of Elders of the Balkar People" has failed to hold congresses and keep its records, while its leader, Ismail Sabanchiev, made an extremist call; therefore, the Nalchik City Court has declared the organization liquidated.
The "Caucasian Knot" has reported that back in May 2010, the Supreme Court (SC) of the Kabardino-Balkarian Republic (KBR) decided to liquidate the "Council of Elders of the Balkar People", treating its activities as extremist; however, in July of the same year, the Russia's SC overturned this decision.
Now, the KBR's Prosecutor's Office (PO) has stated that the report released by the Council of Elders "The situation of the Balkar nation in the KBR: sources of problems and ways to solve them" contains propaganda of citizens' exclusivity or inferiority based of their attitude to national identity.
The court has decided that the report "is aimed at demanding Balkaria's exit from the KBR and forming a new subject of the Russian Federation," the "NewsTracker" outlet has reported in its Telegram channel.
This article was originally published on the Russian page of 24/7 Internet agency 'Caucasian Knot' on March 17, 2023 at 08:32 am MSK. To access the full text of the article, click here.
Source: Caucasian Knot