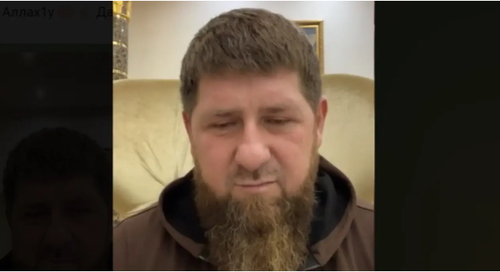 05 March 2022, 12:02
Kadyrov declares Chechen militaries' actions in Ukraine as jihad
Fighters from Chechnya will punish everyone who had killed civilians in Donbass and Odessa, Ramzan Kadyrov has stated. He has treated the actions of Chechen law enforcers in Ukraine as jihad, noting that they are fulfilling the order.
The "Caucasian Knot" has reported that on February 26, Ramzan Kadyrov announced that Chechen fighters had left for Ukraine in order to fulfil Vladimir Putin's orders and protect the Ukrainian people. On February 28, Salakh Mezhiev, the Mufti of Chechnya, announced that the Chechen fighters who had left for Ukraine "went to jihad" and were fighting for the sake of Allah.
The Chechen militaries will punish everyone who killed civilians in Donbass and Odessa, the head of Chechnya, Ramzan Kadyrov, stated on March 4 in his address to Ukrainian militaries and members of "nationalist battalions." "We are already here! (...) And we'll do it," Kadyrov wrote in his Telegram channel. According to his version, the fighters possess addresses of the members of the nationalist battalions and their families. "They (...) are hiding behind the backs of militaries – those who took the oath to the people of Ukraine," Kadyrov has stated.
He has urged Ukrainian militaries to deal with them on their own, or better leave them to Chechen fighters. "It will all be over soon; and we'll live on in friendship, as before. Don't interfere with us; we won't stop. We have an order, we have jihad!" Kadyrov has stressed.
This article was originally published on the Russian page of 24/7 Internet agency 'Caucasian Knot' on March 4, 2022 at 11:59 pm MSK. To access the full text of the article, click here.
Author: The Caucasian Knot