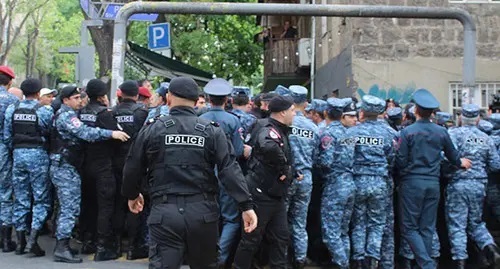 09 June 2022, 08:28
Armenian opposition accuses authorities of double standards
Oppositional MPs were not invited to the conference on judicial reform to avoid discussing undesirable issues, including the issue of political prisoners, protesters in Yerevan have stated.
The "Caucasian Knot" has reported that on June 7, opposition supporters held protest marches in Yerevan to the building of the representative office of the European Union (EU). There, activists called on the authorities of EU countries to react to Armenian police's use of excessive force against marchers on June 3.
On June 8, oppositional MPs held two protest actions: in the morning at the "Marriott Armenia" Hotel, where discussions were held on reforms of the judicial and legal system; and in the afternoon – at the Ministry of Public Health.
The MPs from the oppositional parliamentary factions were not invited to discuss the reforms of the judiciary at the conference "The Judiciary as Democracy Guarantor", Aik Mamidjanyan, an MP from the "I have the Honour" faction, said during the protest. In his opinion, such a selective approach is contrary to democratic principles. "At the conference, we wanted to present the situation in the judicial system and raise the problem of political prisoners in Armenia," the oppositional MP has explained.
The second protest action was held by women-MPs from the "Aiastan" faction, Anna Mkrtchyan, Kristine Vardanyan and Aspram Krpeyan. They entered the government building, which, among other bodies, houses the Ministry of Public Health of Armenia. Despite the securities' attempts not to let them in, they managed to get into the meeting room, where Anait Avanesyan, the Minister, was at the moment. The MPs criticized her, but she didn't respond to their remarks. A few minutes later, the women-MPs left the ministry.
The criticism of the oppositional MPs has to do with Minister Avanesyan's statement the day before, in which she treated the actions of opposition supporters as illegal, and those of law enforcers – as "proportionate" to activists' actions.
This article was originally published on the Russian page of 24/7 Internet agency 'Caucasian Knot' on June 8, 2022 at 08:11 pm MSK. To access the full text of the article, click here.
Author: Tigran Petrosyan Source: CK correspondent