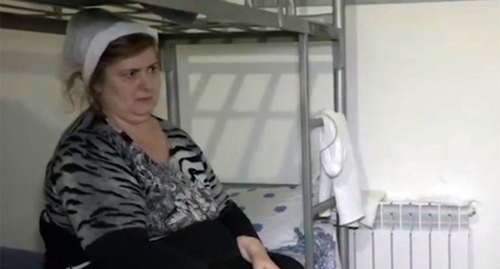 28 January 2023, 23:20
Lawyers comment on appointment of a new examination in Musaeva's case
A new examination in the case against Zarema Musaeva will also be carried out in Chechnya, lawyer Alexander Nemov reports. The results of the new examination will be attached to the case file, states Katerina Vanslova, the head of the North-Caucasian branch of the "Team Against Torture"*. A year has passed since the incident, and the examination will be complicated, advocate Yevgeny Chernousov emphasizes.
The "Caucasian Knot" has reported that on December 1, 2022, Zarema Musaeva completely denied the accusations. On December 2, the court extended Zarema Musaeva's arrest until February 12, despite the deterioration in her health state. On January 26, the court granted Zarema Musaeva's request for an appointment of a new examination. The advocate insisted that it should be carried out beyond Chechnya.
Read the "Caucasian Knot" reference material "How Yangulbaevs became Kadyrov's enemies" to find how the conflict began, what accusations Ramzan Kadyrov voiced, what the Yangulbaev family answered the leader of Chechnya, and what role in the development of the situation was played by an opposition Telegram channel.
An independent expert proved that an abrasion got by a law enforcer, which became the basis for a charge against Zarema Musaeva of using violence against a public officer, could not cause even slight harm to his health, lawyer Konstantin Gusev reported.
According to advocate Alexander Nemov, the new examination will also be carried out in Chechnya. "We should expect a different result, since the previous examinations contradict not only the methods of medical examinations, but even the rule of law," the advocate has emphasized.
*The "Committee Against Torture" (CaT) was included by the Russian Ministry of Justice (MoJ) in the register of NCOs, performing the functions of a foreign agent. The lawyers who previously worked for the "Committee Against Torture" created the "Team Against Torture".
This article was originally published on the Russian page of 24/7 Internet agency 'Caucasian Knot' on January 28, 2022 at 02:08 am MSK. To access the full text of the article, click here.
Author: Roman Kuzhev Source: СK correspondent