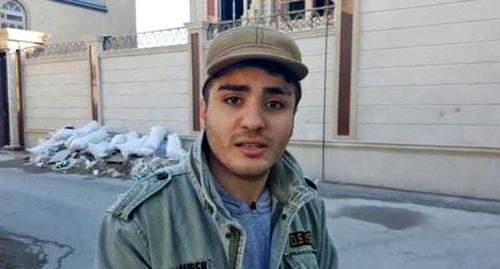 24 August 2018, 22:03
Court refuses to apply CER to Azerbaijani blogger Mekhman Guseinov
The blogger Mekhman Guseinov was denied punishment mitigating and conditional early relief (CER) on the basis of negative characteristics received by the court from his colony. His defence treats the court's decision as unjustified and intends to appeal against it.
The "Caucasian Knot" has reported that Guseinov had stated that he was tortured after detention for disobeying the police. In response, policemen accused him of slander; and Guseinov was sentenced to two years in prison.
Guseinov is known for his videos about corrupt high-ranking officials, he posted on the Facebook.
According to Shakhla Gumbatova, the blogger's advocate, the colony administration decided that his punishment could not be mitigated, since he "failed to take the path of correction."
"Allegedly, Guseinov is 'insincere to colony staff, exhibits unsatisfactory attitude to labour and doesn't take part in cultural events'," Ms Gumbatova quotes the characteristics.
According to her version, Guseinov is a very sociable and sincere person and had no conflicts with anyone in the colony.
At the same time, the advocate has added that Guseinov does not complain about the custody conditions in the colony.
"However, Mekhman and his family members were very sorry that the blogger was not released to visit his severely sick mother," Shakhla Gumbatova has stated.
Civil society activists of Azerbaijan are disappointed by the court's decision, said Samir Kazymly, the coordinator of the Alliance for the Protection of Political Freedoms.
Earlier, rights defenders associated their hopes for Guseinov's release with Angela Merkel's visit to Baku on August 25.
This article was originally published on the Russian page of 24/7 Internet agency 'Caucasian Knot' on August 24, 2018 at 06:00 pm MSK. To access the full text of the article, click here.
Author: Faik Medjid Source: CK correspondent