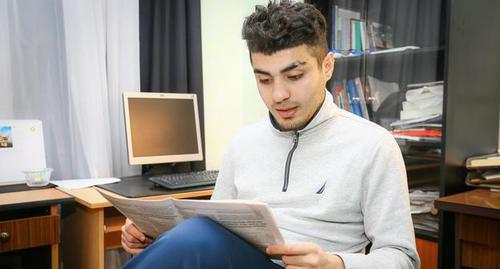 08 January 2019, 16:15
Defenders of Azerbaijani blogger Guseinov report sharp deterioration of his health
An official from the Penitentiary Service declared that Mekhman Guseinov was on a hunger strike for just one day. A blogger's brother and an advocate state the above statement is false and the authorities try to hide the fact of the hunger strike from the public.
The "Caucasian Knot" has reported that on December 26, 2018, Mekhman Guseinov declared a dry hunger strike in a penal colony in protest against a new criminal case, and on December 30, after being transferred to the SIZO (pre-trial prison) and a sharp deterioration in his health, the blogger began to drink water. On January 1, the father of Mekhman Guseinov tried to visit his son, but was not allowed. On January 7, the Penitentiary Service declared that Mekhman Guseinov was on the hunger strike for just one day, that he took food and that he was visited by his advocate.
"Mekhman said that because of pain in his stomach he began to take liquid dairy food," said advocate Shakhla Gumbatova.
Blogger's brother Emin Guseinov, the executive director of the Institute for Reporters' Freedom and Safety (IRFS), who lives in Europe as a political migrant, has said that the Mekhman's health had been greatly deteriorated by his hunger strike.
"Even after such a hunger strike, it will take weeks, if not months, to restore the body," Emin Guseinov noted.
On January 7, a hunger strike was started at the office of the "Musavat" Party in solidarity with Mekhman Guseinov.
"If the society does not defend such critics of the authorities as Mekhman Guseinov, then there will be no development in the country," said Leyla Babaeva, a participant of the hunger strike.
This article was originally published on the Russian page of 24/7 Internet agency 'Caucasian Knot' on January 8, 2019 at 07:16 am MSK. To access the full text of the article, click here.
Author: Faik Medjid Source: CK correspondent