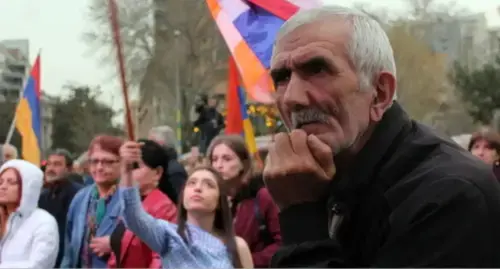 16 June 2022, 23:57
Armenian political analysts dispute about opposition's plans
The oppositionists, demanding the resignation of the Prime Minister, Nikol Pashinyan, have attracted patriotic citizens to their side and changed tactics of achieving their other goals, Armen Badalyan, a political strategist, has noted in his comment on the roll up of the tent camp in Yerevan. He has not ruled out that the next step will be the reconciliation of authorities with the opposition, Naira Airumyan, a political observer, believes. The opposition has lost, and protest actions will soon stop, Armen Vardanyan, a political analyst, has suggested.
The "Caucasian Knot" has reported that on June 15, opposition supporters held a march in Yerevan, while the "Resistance" movement staged a symbolic sit-in strike similar to the students' action held in 1988.
Armen Badalyan believes that the opposition has failed to expand the circle of its supporters due to the fact that it hadn't set the required goals.
The opposition has managed to preserve a niche for the forces that still treat Nagorno-Karabakh as a precondition for Armenia's existence, said Naira Airumyan, the editor of the "Lragir.am". However, the opposition failed to discredit Pashinyan in Russia's eyes.
The opposition understands that it has lost, but it needs to save its image; therefore, it is looking for ways to come back, Armen Vardanyan, a political analyst, believes. In his opinion, no global protests can be expected.
Mr Vardanyan believes that the parliamentary opposition has no broad public support, while the leaders of the movement are completely unacceptable for the most of the society. Besides, there are serious controversies inside the opposition itself.
This article was originally published on the Russian page of 24/7 Internet agency 'Caucasian Knot' on June 16, 2022 at 04:37 am MSK. To access the full text of the article, click here.
Author: Armine Martirosyan Source: CK correspondent