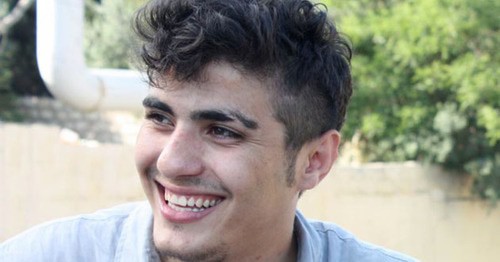 13 March 2019, 15:37
Mekhman Guseinov
Mekhman Guseinov is the editor-in-chief of the political journal SANCAQ Production and the director of the Institute for Reporters' Freedom and Safety (IRFS).
Mekhman Guseinov is an author of popular investigations into real estate objects owned by officials, arbitrariness by the police, and other social problems.
Sentence for torture
On January 9, 2017, Mekhman Guseinov was detained by policemen in Baku. He was accused of disobeying the lawful demands of the police, and a fine of 200 manats (120 US dollars) was imposed on him.
Mekhman Guseinov claimed that he was tortured at a police station. The police called those claims the defamation and appealed to the Prosecutor's Office. On March 3, 2017, in Baku, a court found the journalist guilty of defamation and sentenced him to two years of imprisonment.
After serving half of his sentence, Mekhman Guseinov filed a motion for his early relief, but was refused. On December 26, 2018, the Azerbaijani Penitentiary Service announced that two months before the end of his prison term, Mekhman Guseinov beat a warder. Rights defenders believe that a new case was instituted against Mekhman Guseinov for revenge for his opposition statements, in an attempt to prevent him from going free.
On December 26, Mekhman Guseinov was transferred to a punishment cell, where he declared a hunger strike, which he stopped 5 days later after a sharp deterioration in his health and a request from his brother.
Before his arrest in 2017, Mekhman Guseinov led the campaign "Hunting for corrupt officials". On pages of SANCAQ Production, he published a video about villas belonging to Ziya Mamedov, Minister of Transport, Salim Muslimov, Minister of Labour and Social Protection, Kyamedin Geidarov, the head of the Ministry for Emergencies (MfE), and a number of MPs.
Calls to release Mekhman Guseinov were voiced by Amnesty International (AI), the UN Special Rapporteur on Human Rights, the PEN America club, the international human rights organization Human Rights House, the French Ministry of Foreign Affairs, and Reporters Without Borders (RWB), an organization in defence of the freedom of journalists.
On January 3, 2019, in Baku, 15 protesters in support of Mekhman Guseinov were detained.
On January 21, in his appeal to President Ilham Aliev, the blogger stated that he did not beat a prison officer, and after that investigators closed a new criminal case against Mekhman Guseinov.
On March 2, being free, Mekhman Guseinov visited the grave of his mother, who died while he was in prison. Then he took part in a rally in memory of journalist Elmar Guseinov.
Biography
Mekhman Guseinov was born in Baku on November 24, 1989. He got the bachelor's degree from the Azerbaijan State University of Economics (known as UNEC).